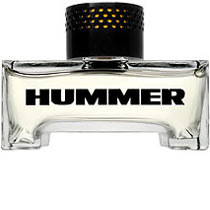 I went with some students from the School for the Blind to Target today; we did some holiday shopping. Turns out Hummer has its own line of cologne. Yeah, Hummer, like the massive gas-guzzling tank for suburban, surgically-enhanced soccer-moms from Hell. Here's a few words about Hummer's new scent, straight from their press release:
"The Hummer cologne adventure begins with a fresh and exhilarating burst of freshness comprised of green foliage, cardamom, thyme, and peppercorns that capture the essence of the outdoors. These lively notes are then melded with a warm, rugged, masculine, adrenaline rush of leather, patchouli, amber, and sandalwood. The smooth richness of tonka bean act as the "axle" that links and balances the fresh and warm notes, creating an olfactory sensation that can only be Hummer."
There was also a brand of cologne called "Really Ripped Abs" and it had a grip built into the side of the bottle, to prevent slippage probably.
========================
In other news, we're playing a good show on Thursday: